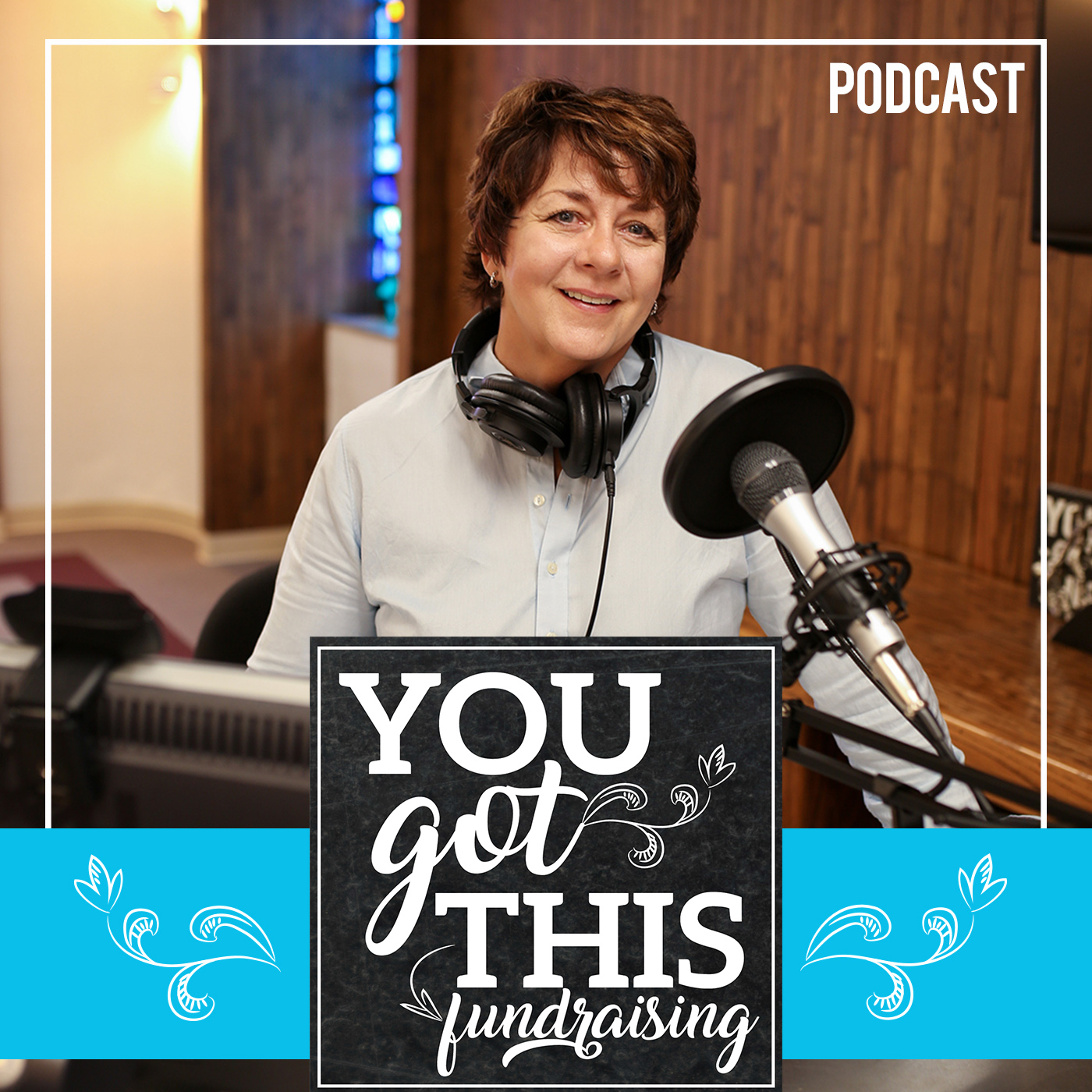 Preferred Donor Management Software - Bloomerang. Click here to start simplifying your digital fundraising.
Hello fellow Simplifiers! This little rabbit hole of anxiety is the place where many fundraisers freeze. Who has experienced this? You know the supporter is right for the organization and they have the means for the support. When you run them down the list of qualifying measures for a larger gift, a gift you get by sitting across from them and asking, perhaps even putting a figure in front of them, oh boy, wow. My palms just got sweaty.
This week's episode is brought to you by You Got This Coaching. Head over to our website and Facebook page to join in on the conversation.
Make it go away, make the asking anxiety leave and never come back. Well, that probably won't happen, but we can make the asking anxiety become a part of the process and it will settle down. Here is the system for asking, yes, the simplifying system is how we will beat back this ugly anxiety monster.
Simplify your fundraising success! The podcast today is sponsored by You Got This Coaching at dawngabel.com. Simple solutions to your complicated world of nonprofit fundraising.
Plan Visit
First, let's plan the visit. When would you like to meet your donor? You have not asked her to visit with you yet, so this is your visual. When? Morning? Are you at your best in the morning, afternoon, or evening? There is probably a 50/50 chance she will ask what works best for you, so decide ahead. Don't dither if she offers or asks what works best for you. Know what time works for you, both emotionally and on your calendar. Where, where do you see this conversation with her? I love visiting with donors in the most comfortable environment for them. Where do you feel their comfort? But, if that is a place of discomfort for you, then keep that in mind. An example here is if you are very uncomfortable in their country club environment, but they love being there. Simplify, don't make yourself uncomfortable. I will add something here that if you find yourself feeling this way about the country club environment, find ways to make yourself more familiar with that environment. Have lunch with a co-worker there, play a round of golf or tennis there. But today, we have a goal of asking our donor if she would like to up her support. Your country club anxiety is a project to fix another day. So, you have written down two spots that are comfortable for her and for you that would work for your visit. Perhaps that is the coffee shop next to your office and then your donor's home.
Call and make the appointment.
Buddy Up
Bring a friend, if you have another donor, board member, volunteer, etc. who knows the  prospect even better than you, invite them. If you are new at this, having a partner is a great way of helping yourself create a system that works for you. Even if you do not have a person who is close to them, that is okay, bring someone who works with the impact they appreciate the most. But, you need to have them plan with you. You must follow a couple of simple rules to make this an effective meeting.
Make an agenda. No, not exactyl like a board meeting but sort of. If you create an agenda and work it out on paper, then you will follow that in your head. Make it 3 bullet points. Plan who will say what and agree to a signal that makes the other person keep on topic and another signal for them to shut up and listen. Practice these signals so you will recognize them in the meeting.
Happy Happy Joy Joy
Bring your smile and peppy energy! Coffee? Tea? Energy drink? Exercise for endorphin release? Bring your positive game! Positive energy brings back positive energy. Nod your head yes, up and down; no negative shaking your head side to side. Practice letting your fear and anxiety go. The donor will feel your anxiety and might even unconsciously worry that the donation is in good hands. Look at photos of the people who have been impacted and note how they make you feel. This is why you do what you do. Picture them before you walk in the door and remember that feeling, that is bio feedback and it is a great tool to get over fear and anxiety.
Words Matter
Let's talk. You are not asking for money, you are offering them an opportunity to make a large impact. The opportunity that will help them reach the goal of making the difference they want to see in the world. Their work so far has brought about wonderful change. Talk a bit about that. Let your partner mention the previous program success that their partnership helped to bring about.  Use the word "You" and "Your" NOT the words "Our" or "We." Her impact is where she is focused. I don't care if she is a $50 dollar a month donor. Her $600 dollars did what? Let her share in that glory moment with you. But here is your transition, "There is an opportunity to do ________"
Future Fantasy
The next step is into the future. "Wouldn't it be amazing if there was __________?"
Rev your engine for what the finish line of the project would look like. Let them know how you see the future. Paint a picture of the completion, that is why when there is a building campaign, we have artist's renderings. Create a story of your project in the paint of words. Create a rendering of the impact the donor will have. "Wouldn't it be amazing if there was ________?"
Shared Journey
This is a shared journey. The donor is with you on the path and they even have their own version of the journey. You and the organization are just a conduit for their journey. Like a car, you get them from point A to point B, but where do they want to go? I hope you and they are on the same page for the journey to the impact you both want. That is part of a feasibility study. Now, I am not a huge proponent of external feasibility studies. That is the topic of another podcast, but one of the outcomes of a study can be that you are not ready due to the fact you are not on the same page with your prospective major donors. You should know your prospect well enough that they are on the same road you are on with your individual journeys.  Help them find their way by having a conversation with them not just informing them. I know, I just told you to tell them a story of what the future could look like. But stop, let them speak, ask them what do they think about that future? I think we can all practice shutting up. When we are communicating, we fill the air with sound. If you are quiet, they will fill the air with sound. Let them. They may at this point, tell you they don't see what you see for the future. I have been shocked at what donors have said to me during silence. They will voice their concerns that you are not on the right track. That is okay, let them talk. I have heard them tell me that I should dream bigger, fair enough! I have heard them tell me they are ready to give, hallelujah!
This week's episode is brought to you by You Got This Coaching. Head over to our website and Facebook page to join in on the conversation.
Listen and Learn
This is a continuance of the dialogue. Listen more than half of the time. Listen, listen, listen. Ask follow up questions to their concerns. Listen.
Ask...Now…
"Would you support this impact at $___?"
Let them answer. Be quiet.
If they say that they aren't ready to give, ask, "What would bring you to that level of support for the program?"
Let them answer. Be quiet.
When they tell you what would bring them in, ask for the follow up. May I contact you when that happens? May I come back for a visit in June? May I call when we reach that milestone? Whatever fits their response.
Here is a wonderful example of a visit. I and a co-worker made an appointment to speak to a banker about his bank's foundation. He was a personal supporter of the organization and we were interested in a grant for a piece of equipment. We spoke of his personal impact support and why he was passionate about the organization. He spoke, mostly, and he asked about a program from the past. The other person who was with me knew a bit more than I did about the older program that was no longer operating and she shared about that.  He told us about a person who he had great affection for who was highly involved in the program. My partner happened to remember the individual, barely, but mentioned her recollection. Well, he let us know that he was the trustee of her personal foundation. It was dedicated but there were funds at the end of every year that were not dedicated and he had discretion on those dollars. Although we did not drop the topic of the bank's larger foundation, he did let us know we were welcome to apply and he would give a recommendation with it. But, there was a lot of competition for the funds in that pool. He was so excited about the connection of the foundation he had governance over that he brought out his file on the lady and showed us new clippings and other memorabilia that shared the person he obviously loved. He repeated that he felt he would like to extend her interest in the organization that she had in her life with her trust he governed. We were bowled over and asked for a follow up.  He suggested three months out and he would know more about how the investments would produce and what he would be able to contribute.
Three months later, I followed up. I had built a better relationship with him and so we had some things to chat about other than money. He wanted to know how the funds for the project, approximately 170 thousand, were going. I let him know of the three pledges we had received. He was very happy and excited. He wanted to know the lifespan of the equipment, I had that information for him, and I spoke of the impact the equipment was expected to give. He was excited and let me know he expected to donate from the foundation. I made the ask, since I felt from my research that this was around the amount of leftover money he was likely to have, perhaps even a little higher than he would have. Over asking is better than under asking. I asked him for $5,000.  My research was wrong, he responded he felt that he could do better than that, considerably better, with a little smile.  He would not share the amount, I tried, and he told me he would not know the exact amount until the end of October. I asked to stop by at that time, he said he would count on it. I sent him a thank you note after each visit and I also sent him an old photo I had found of the foundation's creator when she worked on the other project. He was delighted and sent a hand written thank you for the photo. (don't forget to keep building the relationship.) It was a beautiful day when he surprised us with a check in October for 15 thousand dollars. 
I will go over the steps quickly, pick the person based on their involvement; plan the visit; bring a friend; make an agenda; bring your joy; words matter; paint the future; it's their journey, listen, and then ask.  Remember, they love the impact already or you would not have picked them and above all, you got this!
This week's episode is brought to you by You Got This Coaching. Head over to our website and Facebook page to join in on the conversation.